We are so excited to share that Principal. Global Events have become members of Isla! We are dedicated towards reaching our short and long term targets focused on three core areas: zero waste, 100% renewable, and carbon emission reductions. We are tracking, measuring, and reporting the way in which we are leading innovative sustainable event designs so we can drive constant improvement towards a net zero carbon future.
As we celebrate Earth Day, it's important for the events industry to take a closer look at how we work and our sustainability practices and consider how we can be more responsible in our approach to events. By choosing sustainable venues, reducing energy consumption, minimising waste, promoting sustainable transportation, and educating delegates, we can make a positive impact on the environment and create more sustainable events.
We understand that finding sustainable solutions for events can feel overwhelming but since joining Isla we are introducing a framework that simplifies sustainability and offering guidance, solutions and actions to our clients.
One way for our clients to start their sustainability journey is by selecting sustainable destinations; here are some of our most recent event destinations that have been considered as the world's most sustainable travel destinations according to the Global Destinations Sustainability Index's ranking: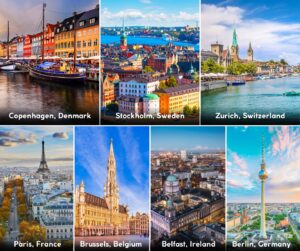 Each of these destinations is ideal for providing sustainable venues, catering partners and activities plus a range of solutions to help you meet your sustainability targets.
Do you need help in designing a sustainable event? Get in touch today and let's work together to create a more sustainable future for the events industry and the planet.