We are halfway through 2023 and it's time to reflect on how much we have achieved, delivered, seen, and done so far.
As we start July, we can't help but be amazed by the whirlwind of experiences it has been, filled with growth, adventure, and making a positive impact.
This year so far, at Principal.…
• Our Family has grown, welcoming 6 amazing new members to our team, joining both the Operations and Sales & Marketing teams, bringing in new talent and creativity.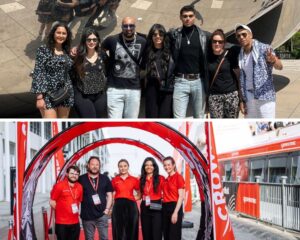 • Our passports have been stamped in remarkable destinations, making unforgettable memories in places such as India, South Africa, Poland, Dubai, Las Vegas, Zurich, Prague and so many more!


• We conquered Tough Mudder, raising over £2,500 for the Camden Crisis Sanctuary, a charity that is a safe place for those suffering with mental health and distress, a cause close to our hearts.
• We became members of isla, continuing our pathway towards sustainability by joining an industry community dedicated to creating events that leave a positive impact on the environment and communities.
• Our Team have been on a number of trips, learning and meeting with partners across the globe, making sure we are up to date with the latest in each destination our clients want us to take them to. Some of the incredible destinations our team have had the opportunity to explore include Dubai, Malta, Athens, Sicily, and Naples.


• We have brought back our International Office Lunches. An opportunity to work together as a team, encourage creativity, learn about different cultures and spend time together during a busy day. So far, we have been lucky to indulge into the flavours of Greece and India, as well as enjoying a traditional British afternoon tea. With three more to go, the lunches have been a blast so far!

The first half of 2023 has definitely been a busy yet very successful one. We're so excited to see what the second half of the year has in store for us, and we can't wait to share it with you!